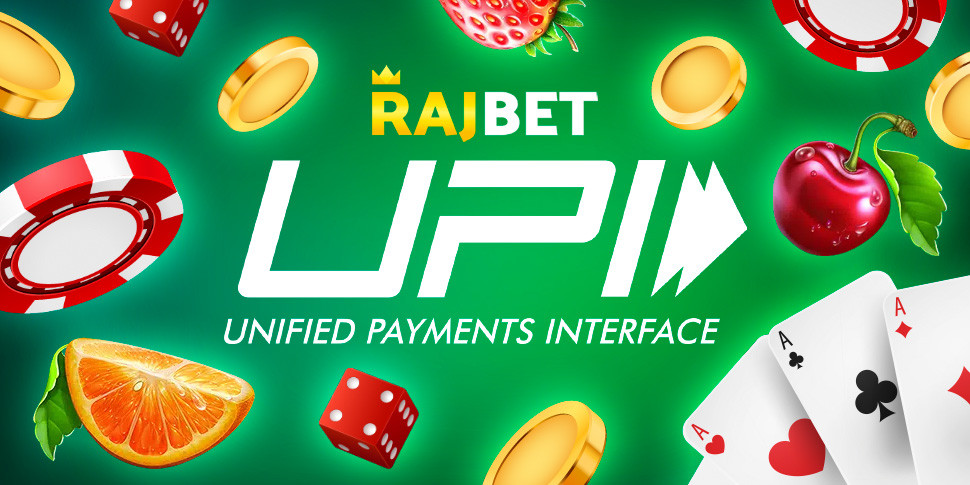 UPI Casino India - RajBet Online Casino with UPI Payment
2022-05-15 05:00
What is UPI casino and why you should use UPI payment system to play casino games in India? Let's dive into the topic to answer the questions.
UPI (Unified Payments Interface) is the online payment system that allows you to transfer money to anyone using a smartphone. With UPI, you can transfer funds knowing the recipient's mobile phone number or VPA (virtual payment address), and the amount goes directly from your bank account to the recipient's bank account.
The service is actively used in e-commerce, paying utility bills, booking tickets, paying for delivery services, trading on the stock exchange, etc. Also, the UPI system is in great demand among gamers in online casinos such as RajBet.
UPI payment benefits
Convenient interface. The product has a straightforward design, thoughtful navigation, and a lot of additional settings for comfortable use.
Privacy. The system requests a minimum of personal information. To deposit and withdraw funds, it is enough to indicate one of the proposed types of data, for example, VPA or mobile number
High transaction speed. To withdraw earned funds in RajBet online casino, a gamer will not need to wait a long time
Useful settings. Several valuable options are integrated into the system, for example, the AutoPay function for recurring payments. You can view transaction history, set up regular payments, generate reports
Accessibility. Casino integration with UPI payment systems is possible due to the distribution of the product through many popular applications, such as Google Play, App Store, and other online stores
High performance. The system provides good capacity, which is essential at times of critical load on the online casino server
Reference safety. Data transmission is protected with 256-bit encryption, and the service provides two-factor identification for all users. UPI requests a minimum of data when transferring money, which also affects the overall level of transaction security
RajBet online casino with UPI payments
There are several requirements for using UPI, such as:
Smartphone with active Internet access
Debit or credit card associated with this bank account
Mobile phone number linked to a bank account. One SMS message will be sent from your mobile phone, so make sure you have enough funds on your balance
First of all, you must create your unique VPA (virtual payment address). Rajbet.com gives step-by-step guide on how to do this:
Download the UPI app from the mobile store
Open the ICICI pockets. The first time you run the application, you need to install MPIN. Also, an SMS will be sent from your mobile phone for verification
Click on ''Continue'' to create a unique VPA
Create a personal VPA, enter it, and check availability
Select your bank from the list
Register this bank account using your debit/credit card details
Choose a default account for transactions
After sending, everything will be ready, and now you can start transactions using UPI
The best UPI casino India
The Rajbet.com is the best UPI casino India website if you prefer this deposit and withdrawal method. You can check it by clicking on the green dollar icon in the top right corner of the screen. UPI payment system is always a good choice for those who won't wait a long time to get their deposit credited and avoid complicated wire bank transactions.
Play online casino games at RajBet with UPI or use your preferred payment method, and win more!