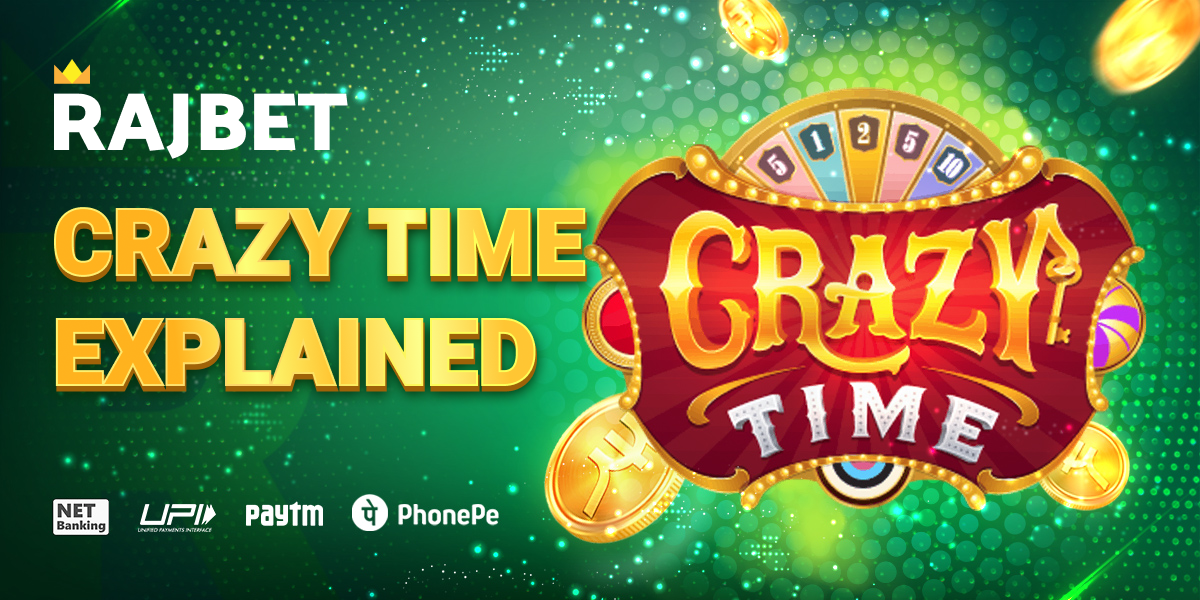 Crazy Time Evolution Gaming - How to Play, Bonuses, Strategy
2021-11-12 05:00
Crazy Time is a uniquely thrilling live casino game from Evolution Gaming. It builds on their highly popular Dream Catcher while taking entertainment to heights that few live casino games are capable of.
At its heart, Crazy Time casino game is played on a big, colourful money wheel. Unlike normal money wheels, Crazy Time also awards multipliers to boost prize values and includes four bonus games where the action really can get crazy.
Mixing live action with RNG gameplay, players have the chance to win prizes worth up to 25,000 times their stake – not many money wheels can match these sorts of thrills!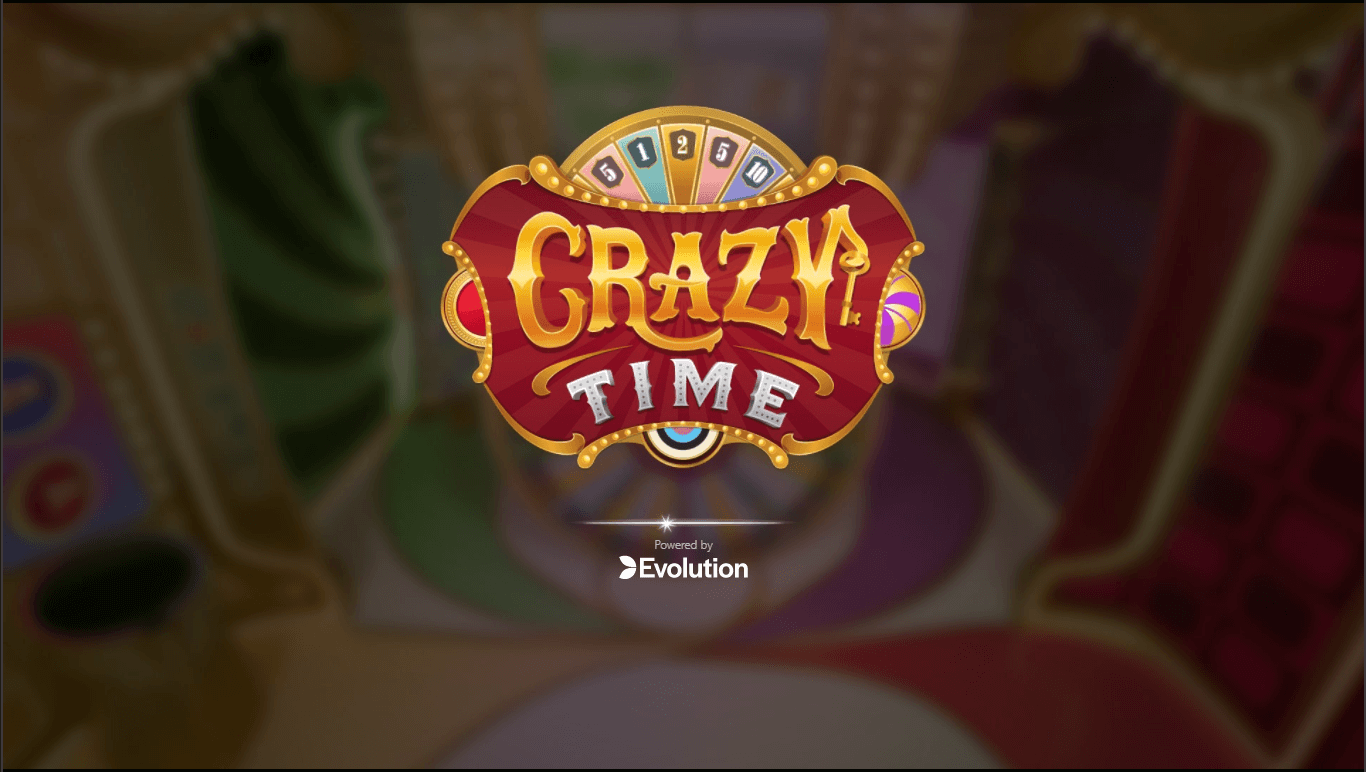 How to play Crazy Time Casino
At the start of each round, two wheels spin. The first is the main money wheel which is divided into 54 segments, displaying the numbers 1, 2, 5, 10, and the names of the bonus games.
Before the round starts, players select a stake and choose whether the wheel will stop on one of the numbers or one of the bonus games. Of course, you can bet on more than one choice if you prefer.
When you play Crazy Time, one of the most successful games created by Evolution, the wheel spins, and if it stops on the segment you choose – you win! If the winning segment is a number, players earn their stake multiplied by the winning number.
If the winning segment is a bonus game, then players who bet on the correct segment move to another part of the studio for the bonus round to be played.
However, as well as the main money wheel, a Top Slot also spins. The Top Slot is split into two reels. The reel on the left displays the numbers or bonus games from the money wheel, while the reel on the right displays multipliers.
If the winning segment on the money wheel is shown on the Top Slot's left reel, the multiplier on the right reel is applied. In this way, it is possible to drastically improve the amount of money awarded!
Crazy Time Game Bonuses
Playing Crazy Time live, the real fun happens during its exciting bonus games. As mentioned above, if the main money wheel stops on one of the bonus games, any players who bet on it move to the next round. Crazy Time live has four thrilling bonus games to take part in:
Coin Flip – two values are assigned to the red and blue sides of a coin. A Flip-o-Matic device flips the coin and awards the respective bet multiplier.
Cash Hunt – a shooting gallery holding 108 icons takes up the screen. Players click on one of the icons to reveal a bet multiplier.
Pachinko – the presenter drops a puck into a huge Pachinko wall that has 16 possible outcomes. When the puck makes it to the bottom, it reveals a bet multiplier prize. Sometimes it will reveal the word 'Double'. When this happens, all the prizes are doubled, and the presenter repeats the process.
The fourth bonus game is the amazing Crazy Time round held in a mesmerising room full of animated entertainment. Players pick yellow, green, or blue flappers, and a huge money wheel spins.
Whatever the flappers point to is awarded to the player. It is possible to land on 'Double' or 'Triple' segments. If this happens, the rewards are doubled or tripled, and the wheel spins again.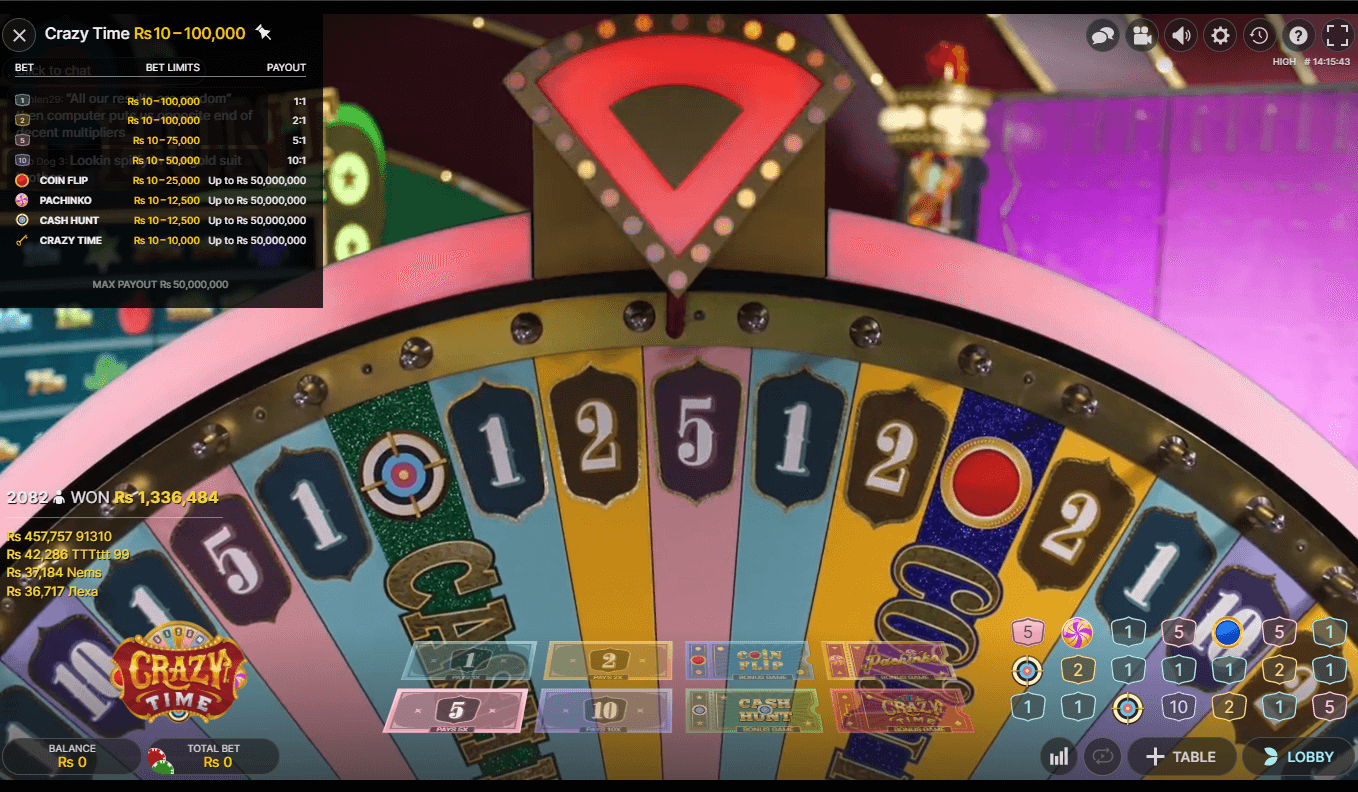 Crazy Time Strategy
To get the most out of your Crazy Time gaming, you might want to look at adopting a betting strategy. First off, let's just say that no strategy or system will guarantee winning results all of the time. Online casino games are structured so that luck is the overriding factor that cannot be cracked.
However, many players choose to use betting strategies to try and help improve their results and maximise their enjoyment of playing casino games in the process.
The key to scoring the biggest wins in Crazy Time is during its four bonus rounds since that's where the largest bet multipliers can be found. This means that when devising a Crazy Time strategy, it is important to factor in bonus round bets. Let's see how you can begin to formulate a Crazy Time strategy.
Volatility based strategy
There are several volatility-based approaches you can make depending on your risk/reward tolerance. Lower volatility represents a 'safer' approach as more of the board is covered, so there is a larger chance of winning something.
A highly volatile approach focuses on winning bonus rounds, which happens less often but possess greater potential rewards when they do hit.
Here are two examples of volatility-based strategies where the stakes represent units of your bankroll. A unit might be 1% of your budget, for example.
Low Volatile Betting
Segment 1 – 1.5 units to cover 37.01% of the board.
Segment 2 – 1.5 units to cover 25.93% of the board.
Segment 5 – 1.5 units to cover 12.96% of the board.
Coin Flip – 0.5 units to cover 7.4% of the board.
Cash Hunt – 0.5 units to cover 3.7% of the board.
Theoretically, betting like this will help replenish your balance while providing the chance of triggering two of Crazy Time's bonus games.
High Volatile Betting
Segment 5 – 2.5 units to cover 12.96% of the board.
Segment 10 – 2.5 units to cover 7.4% of the board.
Coin Flip – 1.25 units to cover 7.4% of the board.
Pachinko – 1.25 units to cover 3.7% of the board.
Cash Hunt – 1.25 units to cover 3.7% of the board.
Crazy Time – 1.25 units to cover 1.85% of the board.
This strategy moves away from smaller value wins to help improve the chance of potentially landing larger wins. There is statistically less chance of winning, so there may be downtime, but the hits should theoretically be higher when they come.
Wrap Up
As stated, no Crazy Time strategy can produce winning results all of the time – this is the same as playing any other game of chance.
However, if you are looking for a more systematic way of tackling the game, then betting methodically helps you keep control of your bankroll, focuses betting on the way you prefer to gamble, and may lead to better results and enjoyment levels. Good luck!
FAQs
What is the minimum bet in Crazy Time?
Crazy Time live can be played for just 1 rupee, making it ideal for just about any gambling budget.
Can I win real money on Crazy Time Casino?
Yes, you can! Customers play Crazy Time to have fun and potentially win real money. According to Crazy Time's maker Evolution Gaming, it is possible to win up to 25,000 times your bet.
Can I play Crazy Time in India?
Yes. Indian players can play all of the online casino games in Rupees we offer at Rajbet. Crazy Time casino game is one of our most popular and is chosen by many Indian gamblers.
Why is Crazy Time casnio live game so popular?
Money wheels are one of the most exciting games in many physical casinos. Developer Evolution has taken everything players expect from regular money wheels and dramatically upped the thrills, options, and winning potential. Add on four bonus games, and it's no wonder so many play Crazy Time.
What is a good Crazy Time strategy?
As with all online casino games, luck is the overriding factor in players' success. As such, there is no Crazy Time casino game strategy we can recommend guaranteeing results.
Therefore, like all online gambling, set a budget, have fun, and enjoy the unique entertainment that Crazy Time has to offer.