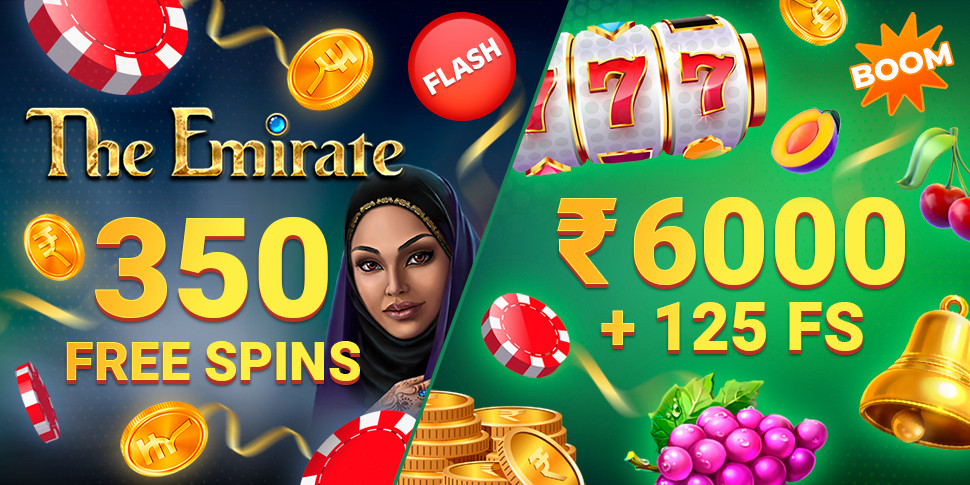 The Emirate [FLASH] and [BOOM] Bonus
2022-01-26 03:10
The wealth of the Arab world is a fascinating fairytale made reality. Is it a human creation or a power of an all-powerful Genie? Today it's your turn to get extra money.  
[FLASH] Bonus 350 Free spins in "The Emirate" 
Deposit:
300 INR and get 150 Free Spins
500 INR and get 200 Free Spins
[FLASH] Bonus will be active for 48h starting from 26.01.2022, 1:30 PM.
Rules:
To withdraw the winning amount, roll it over 40 times
The maximum withdrawal amount for the current bonus is 1500/2500 INR
[BOOM]

Bonus in The Emirate
Active 48h starting from 26.01.2022, 1:30 PM
Hurry up to subscribe!
[BOOM] Bonus rules:
Deposit 
1500-2999 INR to get  2000 INR + 50 Free Spins
3000 INR or more and get 4000 INR + 75 Free Spins
Rules:
The minimum deposit for this promo is 1500 INR
[BOOM] Bonus is only available once per player
Roll it over 10 times (10 times INR amount and 10 times 50/75 FS amount) to withdraw the winning amount
The stake contributions of all game categories on Rajbet Casino are as follows: Live casino, Roulette, Dice, Sic Bo, Blackjack, Card Games, Baccarat, Andar Bahar, Bet games contribute 10%. Online slots contribute 100%.
Examples:
A bet of ₹1,000 in Live Roulette will be calculated as ₹100 for wagering requirements
A bet of ₹1,000 in Slot will be calculated as ₹1000 for the wagering requirement