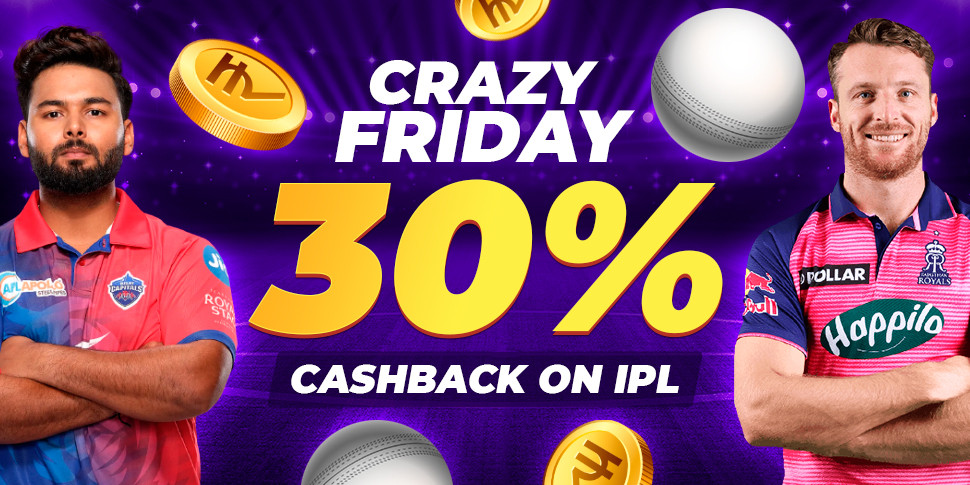 Friday 30% Cashback
2022-04-21 05:30
Exclusive offer for IPL matches bettors
IPL is in its full swing. However, the most challenging moments are yet to come. That's why RajBet launches an exclusive promo campaign. 
Bet on one of the most expected IPL matches - Delhi Capitals vs. Rajastan Royals - that will take place on  Fri, Apr 22, 19:30 IST, and get a Free Bet 30% cashback of your bet. Place a bet from 1000 INR on the IPL match DG - RR to activate the Promo. 
A win-win option awaits you. Just write the promo code CFR30 to the support chat if your bet loses. You will be reimbursed with the 30% amount of your bet. The current Promo is valid for 48h starting from 22.04.2022.
IPL Free Bet offer terms and conditions
the cashback 30% option is available only per IPL match 
the player receives cashback from the losing bet of the maximum size*
the current Promo includes lost single bets on any outcome in the match (live and pre-match) of 1000 INR
the gift Free Bet can be used on a single bet with odds from 1.85 to 3.50 on IPL and eCricket matches.
*not more than 5000 INR.
Free Bet type - Bet Refund
Free Bet type means that the player gets a bonus amount of funds they can bet. If a placed bet wins, players get a net amount of winnings while the Free Bet amount is debited from the players' Bonus Account. The current Bonus does not have a wager.
For example:
Players get 500 INR as cashback in the form of a Free Bet
They bet all the amount of Free Bet on the team with a coefficient of 1.85
If this bet wins (500 * 1.85 = 925 INR), they receive 425 INR
The amount of 500 INR of Free Bet is debited. 
500 INR Free Bet is deducted from the player's Bonus Account if this bet loses.
Players don't lose under any circumstances—a win-win offer for the IPL fans. Enjoy your favorite game at maximum and win with RajBet. 
Your RajBet Team