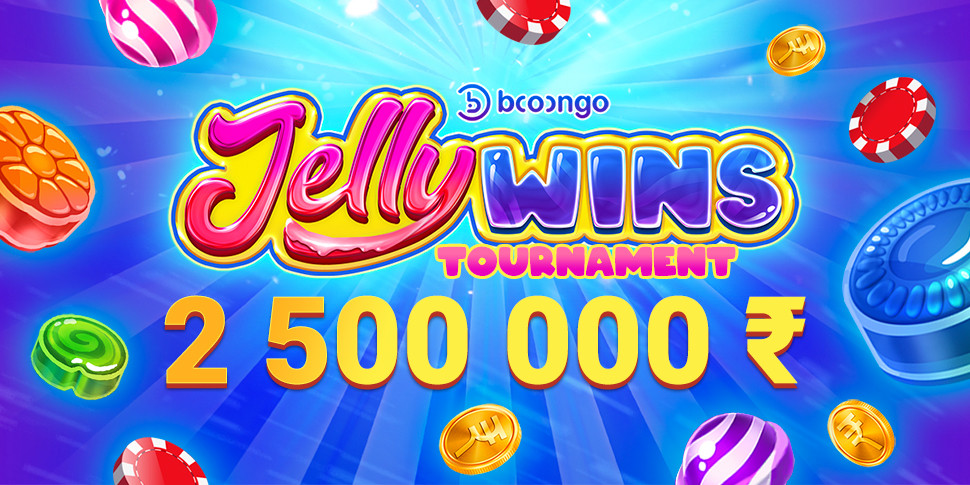 Booongo Jellywins Tournamet
2021-11-18 03:00
We know how to color your autumn! RajBet together with Booongo announces the new flush tournament — Jelly wins. Play the chosen games from November 18 till November 23, collect the points, and hit the Leaderboard. The more points — the more chances to share the progressive prize pool from 2,500,000 INR!
The progressive prize pool means that it grows with participants' bets contribution. The more bets you make, the more chances you have to win, and the bigger prize you can get in the end! Can you imagine that?!
Jelly Wins Terms and Conditions
The tournament starts on November 18, 9:00 UTC, and ends on November 23, 21:00 UTC.
The following games take part in the tournament:
Candy Boom,
Gold Express,
Book of Wizard,
Tiger Jungle,
Sun of Egypt_2,
Hit the Gold,
15 Dragon Pearls,
Magic Apple,
Sun of Egypt,
Wolf Saga,
Dragon Pearls,
Aztec Sun,
3 Coins,
Wolf Night,
Scarab Temple.
To be qualified and have a right to claim the prize player should make a minimum bet of 84 INR, a minimum number of spins is 100. All points collected during the qualification stage are saved and considered for a player after passing such qualification. Non-qualified players are also shown on the Leaderboard but stripped in grey until they are qualified.
Players will get points for each winning spin: 84 INR = 1 Point. For example, a player wagered 84 INR total bet and won 10,075 INR, the player will get 120 Points
Players will get 1 Point for each х1 multiplier in the winning spin. For example, a player wagered 168 INR total bet and won 10,075 INR, the player will get 10,075(win)/168(bet)= x60 multiplier - 60 points.
During the Tournament Leaderboard is updated in real-time with each player's spin. Without a player's activity stats are updated on a 10 seconds sync between the game and promo server.
If two or more players are tied, those who get results earlier are the ones who get better prizes.
Tournament rules can be changed anytime.
The total prize pool of the Tournament is Progressive starting from 2,500,000 INR.
Progressive Prize Pool is growing during the Tournament with participants' bets % contribution.
Prize distribution is based on a % share of the pool for each win position, thus all prizes are growing.
Take your chance to win the Jelly Wins tournament. Hurry up to become the luckiest one!