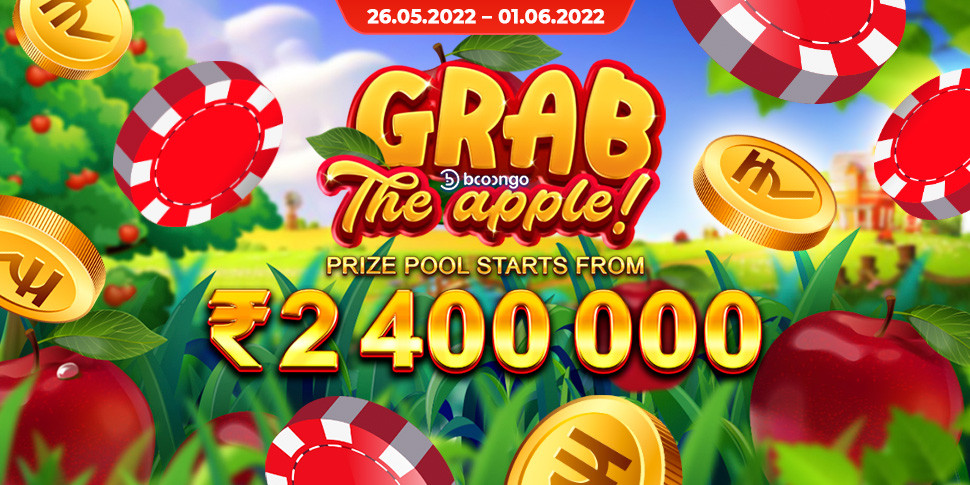 Booongo Tournament Grab the Apple
2022-05-26 08:30
Booongo Tournament "Grab the Apple "
Progressive prize pool: starts from 2 400 000 ₹
The tournament will be held 26.05.2022 14:30 - 01.06.2022 02:30 IST 
Tournament Rules:
The minimum bet to participate in the tournament is 16 ₹   
To qualify for the leaderboard, you need to make at least 100 spins in one or more in tournament games.
Points are awarded by the winning multiplier, where x1 = 1 point:
For example, a player bets 30 ₹ , wins 300 ₹ , therefore, 300/30 = 10 points
Points are also awarded for the sum of win spin. 80 ₹ = 1 point.
Only completed spins will be included in the leaderboard.
Participants should earn as many points as possible during the tournament.
Play following tournament slots by Booongo:
Progressive prize pool.
Starts from 2 400 000
₹
The prize pool of the current tournament will be growing with each bet done by all tournament participants and will be relatively distributed between winning position, the more bets - the higher prize amount. The growing prize pool table is updating every 3-4 minutes in tournament games from Booongo.