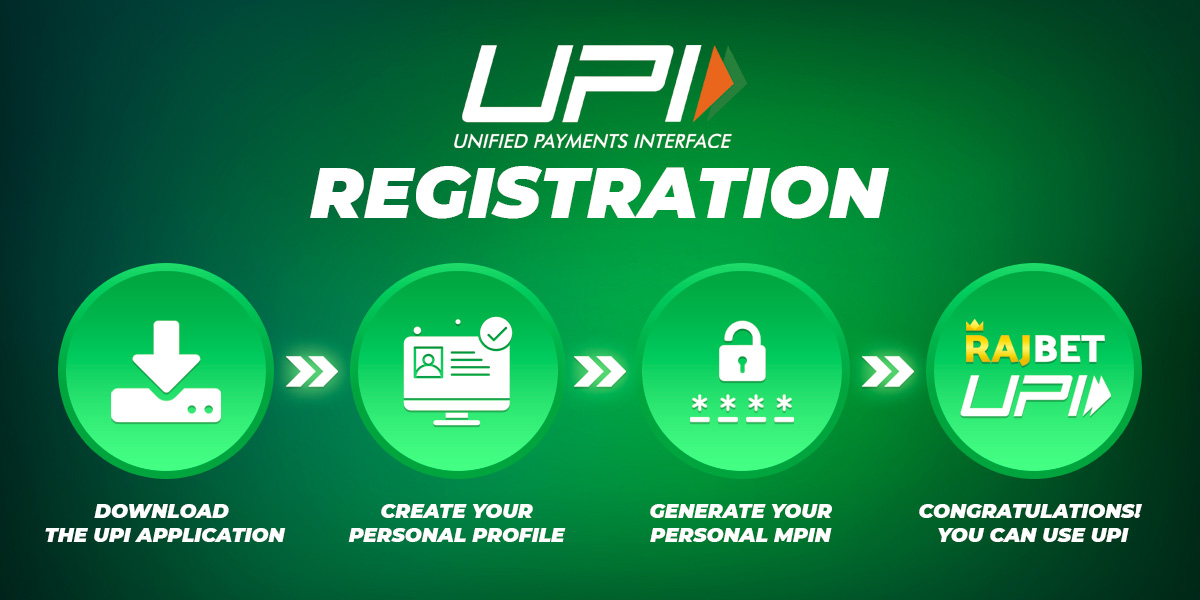 The RajBet casino team prepared a step-by-step guide for all players who want to use the UPI system.
This process is necessary to secure your money and provide you with privacy and access to all advanced technologies in UPI transactions.
UPI Registration Process
Download the UPI application from the App Store, Google Play, or one of the banking sites of your choice

You, as a new user, create your personal profile. First, enter your personal data, such as name, password and virtual ID (you need to come up with a unique username that you will use all the time). Be careful and check all the data you enter, do not leave blank fields.

Go to the "Add/Link/Manage bank account" section and link the bank and your account number with the virtual ID created earlier

Please note that you will now need to create an mPIN file, which is considered your personal password and without which it is IMPOSSIBLE to continue the transaction!
mPIN code
After successful registration, you must generate your personal mPIN (Mobile Personal Identification Number). We would like to draw your attention to the fact that you will need an mPIN for each transaction.
Install mPIN - step-by-step instruction
You must be sure that your personal mobile phone number is linked to a bank account. If you have entered everything correctly, you can easily create your own mPIN using one of the two methods you choose: it can be online or offline.
Create MPIN offline
You need to dial *99#

You need to enter the first 3-4 letters of the bank you are using OR the first 4 digits of the IFSC code of the bank you are using. Then click on the "Submit" button

Now, you have to "Generate mPIN." To do this, you need to select the option displayed in the application on the screen of your mobile phone

Enter the last 4 or 6 digits of your personal debit card number and card expiration date (MMYY). Enter the numbers from the card without spaces.
Pay attention to the example: 123456 - debit card number and 1224 - card validity period

You have to generate your own mPIN. It can be of two types: 4-digit or 6-digit; it depends solely on the bank. You should duplicate it using a space. Then click on the "Submit" button. Pay attention to the example: 1234 1234.
After that, you will be notified about successfully registering your personal mPIN. In addition, it must be kept in a safe place for future service use.
Create mPIN online
Open the mobile app you downloaded. You will be prompted to create a personal mPIN for UPI Payments. You should click on it to get a new one-time password (OTP). It will be sent to your personal mobile number that you have registered

Next, you will need to enter the last six digits of your personal debit card and its expiration date

Now, you have to generate a unique mPIN for UPI yourself. You can choose 6-digit or 4-digit number; it depends on your bank

Then click Submit and you will receive your personal mPIN, which will be announced in a separate notification
Congratulations! You can use UPI and experience all the system's benefits every day! If you have any questions regarding UPI payments, feel free to ask our support team.