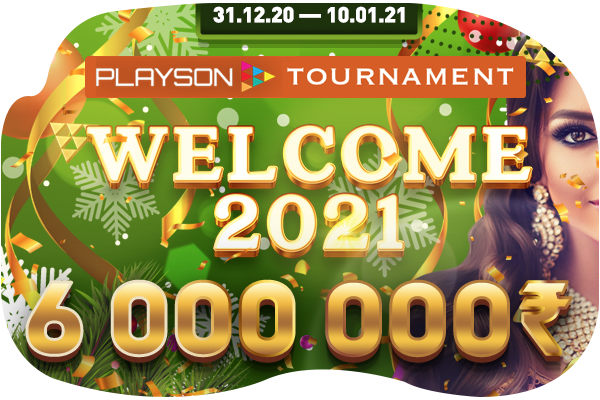 Playson Tournament «Welcome 2021»
Prize pool: 6 000 000 ₹
31.12.20 05:30 IST - 10.01.21 05:30 IST

Tournament rules:

Play following tournament slots by Playson:
The goal of the participants is to earn as many points as possible during the tournament.
10 points are granted for each bet won. For example player won 2000 INR at 400 bet, 2000/400 = 5 bets won = 50 points
The minimum bet to participate in the tournament is 45 INR
Minimum number of spins 0.
Only completed spins will be included to the leaderboard.
Each player will have a unique tournament id that will be visible in the tournament leaderboard.
Participants who do not qualify will not be included in the winners table.
The tournament table is displayed in all tournament slots, the results are updated every 5 minutes (in case of technical problems, it can be updated up to 30 minutes)
If two participants scored the same number of points, the position above will be taken by the one who scored them earlier.
The company reserves the right to decline participation of the player in case of: an attempt to abuse prizes, violation of casino rules or manipulations related to the lack of necessary information.
The casino is not responsible for errors and failures on the part of the gaming provider.
Payments are made by provider Booongo within 72 hours after the end of the tournament.
Payments are made in the currency participated in the tournament, according to the current exchange rate.
Prizes

1 Place

900 000 ₹

2 Place

450 000 ₹

3 Place

270 000 ₹

4 Place

135 000 ₹

5 Place

90 000 ₹

 6 Place

81 000 ₹

7 Place

72 000 ₹

8 Place

63 000 ₹

9 Place

54 000 ₹

10 Place

45 000 ₹

11-25 Place

36 000 ₹

26-50 Place

18 000 ₹

51-100 Place

13 500 ₹

101-250 Place

9000 ₹

251-500 Place

4500 

₹