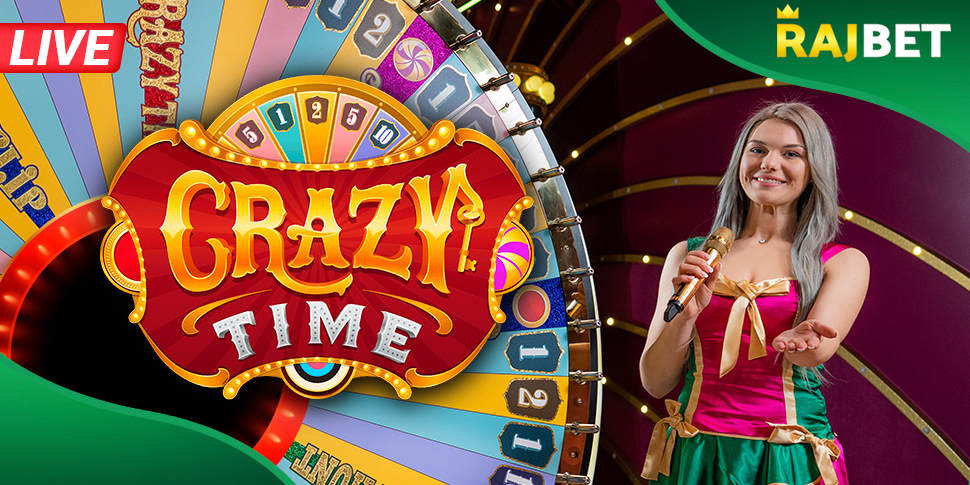 Crazy Time is an incredible live online gambling experience and hugely popular amongst Indian users. In this game, Evolution has taken the money wheel format many online casino players will be familiar with and added a stack of exciting extras.
This includes four fantastic bonus games called Coin Flip, Cash Hunt, Pachinko, and the infamous Crazy Time bonus round. Combining RNG gaming, live-action, multipliers and more, players can win up to an astonishing 25,000 times their stake from Crazy Time!
Crazy Time live rules & bonus features
Each Crazy time round starts with two spinning wheels – one is a prize wheel possessing values of 1, 2, 5, 10, and the four bonus game names. The other wheel is called the Top Slot, which we cover below.
First up, players place bets on any of the numbers or the bonus games displayed on the wheel. You are free to make as many bets as you like at this stage.
Then the money wheel spins. If it lands on a number, then any successful bets win! The amount awarded is the size of the bet multiplied by the winning number. If the wheel stops on one of the bonus games, the action moves to a different part of the Crazy Time live studio. Players who bet on the winning bonus game are eligible to take part.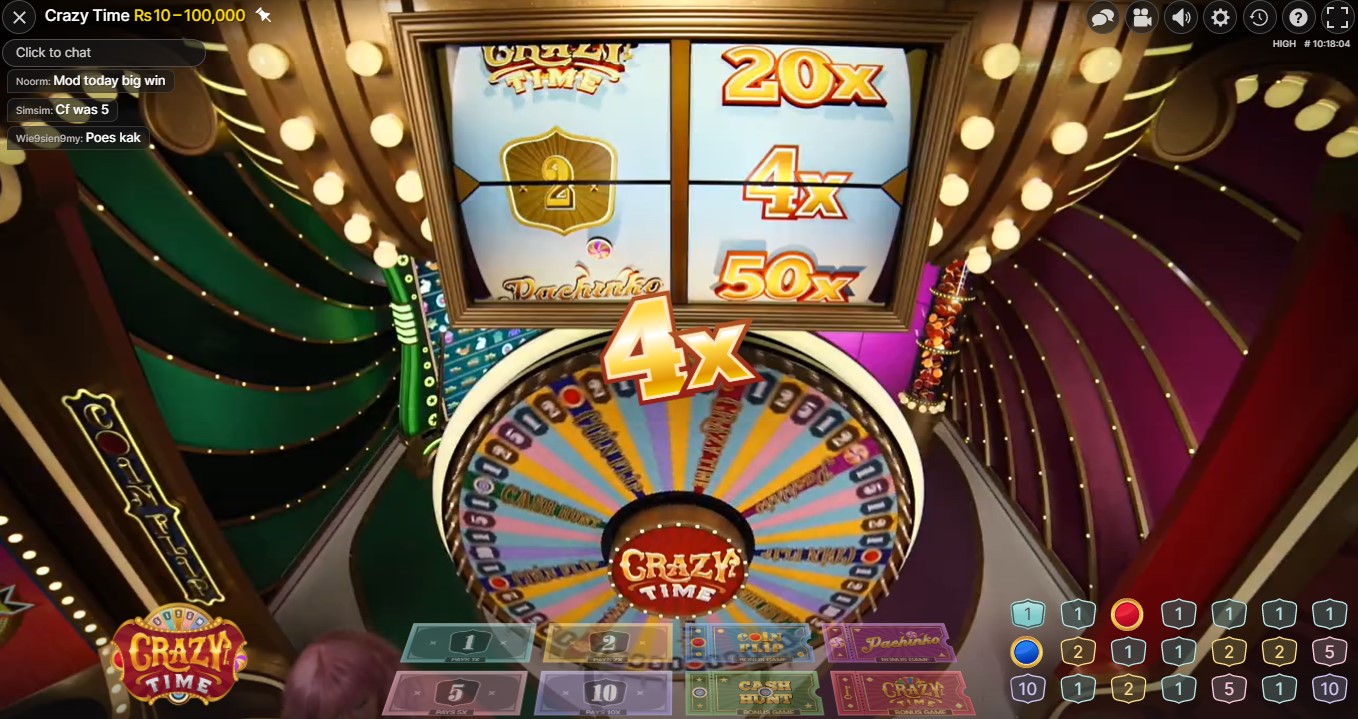 Before checking out the amazing bonus games, let's look at the Top Slot. This wheel is made up of two reels. One reel displays the same numbers and bonus games as the main wheel, the other reel displays multipliers.
If the Top Slot reel lands on the same number or bonus game as the main wheel, then the multiplier is activated and is applied to any applicable wins for even better returns! Here are Crazy Time live's bonus games:
Coin Flip: prize values are applied to a coin with red and blue sides. A Flip-o-Matic gadget flips the coin, and the winning prize is awarded.
Cash Hunt: this game is played on a shooting gallery containing 108 different symbols. It is the player's job to pick one of the symbols, which then reveals their prize.
Pachinko: the dealer drops a puck into a giant Pachinko wall, where it drops to the bottom. At the bottom are 16 bet multiplier prizes. If the puck lands on the word 'Double' when it reaches the bottom, all rewards are increased by x2, and the dealer drops the puck once again.
Crazy Time: a giant prize wheel is spun in the wacky Crazy Time live bonus room full of lights, colour, and sound. Players pick a flapper on the wheel and win whichever prize the wheel lands on. It is possible the prizes are doubled or even tripled before being awarded, resulting in potentially huge rewards.
How to play Crazy Time live at RajBet
Anyone who plays online casino games at RajBet can join in the fun offered by Crazy Time live. New players can easily take part in the unique opportunity to win and have fun provided by the creative Evolution Gaming within moments.
Follow these steps, and you will be enjoying Crazy Time live in no time:
Register a new account with us by clicking on the 'Registration' button'. It sits at the top of the screen – you can't miss it!
Choose a realistic bankroll of rupees and make a deposit.
Click the live casino link to be taken to our excellent selection of real dealer casino games where you can find Crazy Time live.

FAQ
Why is Crazy Time live so popular in India?
Crazy Time live is a hugely popular game all around the world because it is a totally unique experience. For years, money wheels in casinos have been huge, and Evolution has built on this winning formula to create a live casino game experience like no other.
Can I play Crazy Time live on mobile?
Yes, you can! All games at the best Indian rupee casino can be enjoyed on mobile, tablet, or desktop devices. Other than screen size, there is no advantage playing on one device over another – all are equally as fun!
What bonuses can I get for a Crazy Time live?
Bonuses at RajBet constantly change as we look for new ways to reward new and existing customers. Be sure to check our promo page for the current offers, whether you are registering for the first time or returning to enjoy the Crazy Time live action.
You may also like