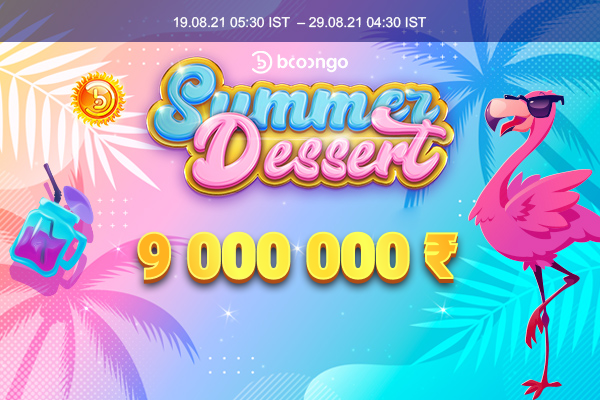 Booongo Tournament «Summer Dessert»
General prize pool: 9 000 000 ₹
19.08.21 05:30 IST  – 29.08.21 04:30 IST  
Tournament Rules
The tournament consists of serie with 10 daily tournaments and 1 extra leaderboard serie.
The minimum bet to participate in the tournament is 45 ₹
To qualify for the leaderboard, you need to make at least 100 spins in one or more tournament games.
Only completed spins will be included in the leaderboard.
Participants should earn as many points as possible during the tournament.
Play following tournament slots by Booongo:
Each player will be assigned a unique tournament ID, which will be visible on the tournament leaderboard.
Non-qualified participants will not be included in the winner table.
The tournament table is displayed in all tournament games, the results are updated every 5 minutes (in case of technical problems, it can be updated up to 30 minutes)
If two participants scored the same number of points, the position higher will be taken by the one who scored them earlier.
The company reserves the right to decline participation of the player in case of: an attempt to abuse prizes, violation of casino rules or manipulations related to the lack of necessary information.
The casino is not responsible for errors and failures on the part of the gaming provider.
All prizes are paid automatically after the end of the tournament and summing up all the final results.
Payments are made by provider Booongo within 72 hours after the end of the tournament.
Payments are made in the account currency of the participant in the tournament according to the current exchange rate.
How to earn points:
Multiplier points
Points are awarded for the highest multiplier of winnings. The multiplier is calculated according to the win/bet formula. For example, you bet 90 and win 900 ₹, 900/90 = 10 points.
Further, to get more points, your multiplier should be higher than the previous one.
For example, your next win is 1800 ₹ at 90 bet brings you 20 more points. However, if the subsequent multipliers are less than x20, the points are not added.
This type of gaining points allows you to get into the table at any time of the tournament, since there is no cumulative component.
Points for the each win spin
Points are awarded for the each win spin. For example, you bet 90 and win 1000 ₹ = 1000 points.
Prize pool: Daily tournament
Prizes 

1 Place

72 000 

₹

2 Place

63 000 

₹

3 Place

54 000 

₹

4 Place

45 000 

₹

5 Place

36 000 

₹

6 Place

18 000 ₹

7 Place

13 500 

₹

8 Place

9 000 ₹

9 

Place

6 300 ₹

10-15 

Place

4 950 ₹

16-30 

Place

3 600 ₹

31-50 

Place

2 700 ₹

51-90 

Place

2 250 ₹

91-100 

Place

1 800 ₹

101-150 

Place

1 350 ₹

151-350 

Place

900 ₹
Extra leaderboard for the entire tournament:
In addition to the daily prize pool, there will be an extra leaderboard with its own prizepool for the entire tournament.
To get into the extra leaderboard, you must collect at least 200 tournament points
+1 point is added to for every 90₹ of bets
Also you can get points by winning in daily tournaments (1st place - 1000 points, 2 - 500 points, 3 - 250 points, 4-5 - 200 points, 6-10 - 150 points, 11-100 - 50 points, 101-200 - 30 points,)
Prize Pool ( Extra Leaderboard)
Prizes

1 Place

180 000 

₹

2 Place

135 000 

₹

3 Place

117 000 

₹

4 Place

72 000 

₹

5 Place

63 000 

₹

6 Place

54 000 

₹

7 Place

45 000 

₹

8 

Place

40 500 ₹

9 Place

27 000 

₹

10-15 Place

18 000 

₹

16-30 

Place

13 500 ₹

31-50 

Place

9 000 ₹

51-90 

Place

4 500 ₹

91-100 

Place

3 600 ₹

101-150 

Place

2 250 ₹

151-300 

Place

1 350 ₹

301-350 

Place

900 ₹