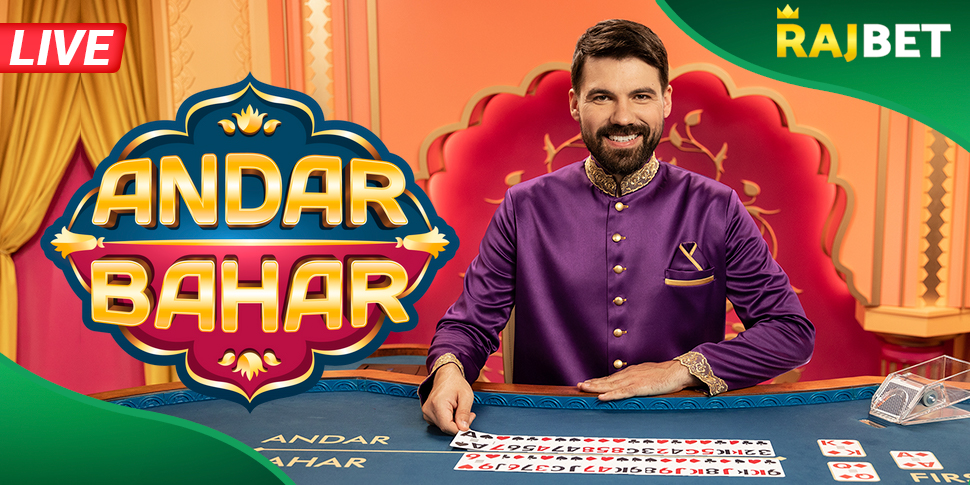 Andar Bahar live is a hugely popular game in India that can be played wherever two people have a pack of cards. The rules are simple, the action is fast-paced, and the winning opportunities can be excellent when playing Andar Bahar for real money.
Andar Bahar is a game of pure chance where players bet on one of two outcomes. Simply guess the right outcome and the money is yours.
Live Andar Bahar game might be big in India, but it isn't always possible to find real money versions. This is where RajBet comes in. At the best online casino in India, there is always room for more players in our fabulous Andar Bahar live gaming rooms which provide top tier live gambling hosted by real-life professional dealers.
| | |
| --- | --- |
| Game | Live Andar Bahar |
| Provider | Pragmatic Play |
| Released | 2021 |
| Type | Live Game |
| RTP | 97.85% |
| Max Win | 120:1 |
| Min Bet | 5 |
| Bonus | 100% on First Deposit |
| Supported OS | Android, iOS, Windows |
| Supported Devices | Desktop, Tablet, Mobile |
Andar Bahar live rules & bonus features
One of the main benefits of playing Andar Bahar live is how simple the rules are. Even if you have never played before, you can learn how to play this exciting game and be gambling online in moments.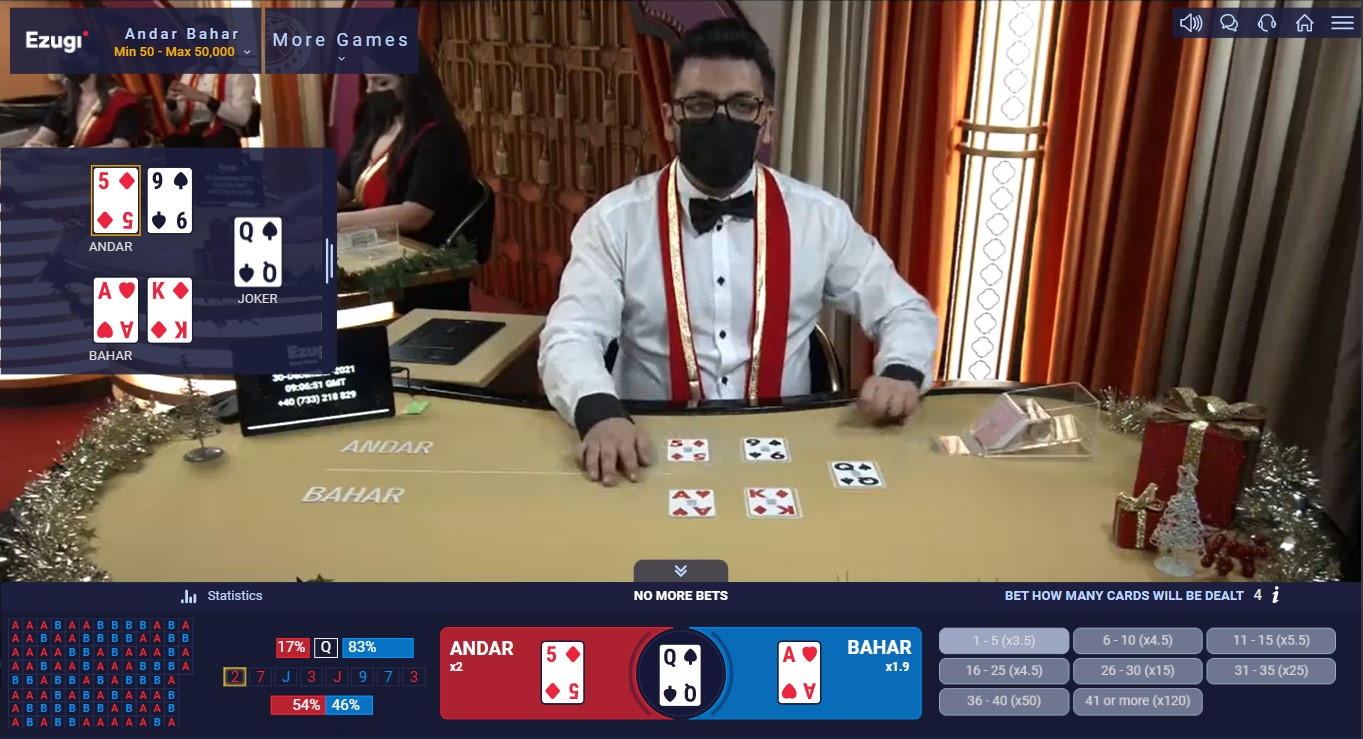 Andar Bahar live requires at least two participants – a dealer and a player. We supply the friendly dealer, so this part is covered! Here are the steps to playing live Andar Bahar real money game:
The dealer places one card onto the table in a face-up position. This card is known as the game card or the joker.
Players then bet where they think the winning card will be dealt. There are two options - Andar is to the left while Bahar is to the right.
The dealer deals the remaining cards from the pack into the two specific Andar and Bahar locations on the table.
When a matching card is dealt, players who bet on the correct side win!
For example, let's say the joker is the 9 of hearts. The winning card could be the 9 of diamonds, clubs, or spades. As you can see, Andar Bahar is a simple yet thrilling game to play. It is ideal for players who prefer to rely on luck rather than developer strategies.
There are no complicated hand rankings to memorise nor any psychological trick. Simply choose Andar (left) or Bahar (right) and sit back and enjoy the show.
How to play Andar Bahar live at RajBet
Andar Bahar live casino RajBet is open for all of our customers to enjoy. One of the huge benefits of playing live dealer games online is that there is virtually always room for more players to join in the action. Follow these steps, and you will be enjoying Andar Bahar live in a flash:
Set up your new account at RajBet by clicking on the 'Registration' button. It sits at the top of the screen, making it easy to find.
Pick an amount of rupees you would like to gamble with and which fits your budget.
Hit the live casino link to be taken to our fabulous line-up of real dealer casino games where you can find multiple real monay Andar Bahar live rooms to enter.

FAQ
Why is Andar Bahar live so popular in India?
The reason Andar Bahar live is so popular in India is because the game Andar Bahar is so popular in general! It is said to have originated in Bangalore centuries ago and is an old traditional card game that remains huge today.
Can I play Andar Bahar live on mobile?
You sure can! Any game you find at RajBet can be played on a mobile device, and this includes Andar Bahar. The screen might be smaller than a desktop, but the thrills are just as large.
What bonuses can I get for Andar Bahar live?
Take a look at the exciting range of bonuses available right now at our promotions page to find the latest offers. We like to reward both new and existing customers with things like bonus cash that can be used to play Andar Bahar live.
You may also like